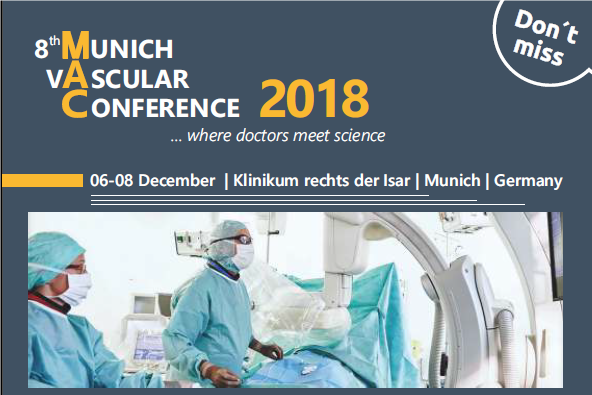 Register the latest by November 21st 2018 at info@ivd.gr
Dear Colleagues,
On behalf of the MAC organizers and in my capacity as president of the IVD it is my pleasure to invite the Greek community of vascular surgeons and endovascular specialists to the 8th Munich Vascular Conference (MAC) which will be organized on December 6-8, 2018 in Munich, Germany.
The program is now available here.
The registration form is available here.
Useful information:
You have the possibility to attend one of the best European vascular scientific meetings. The 8th MAC will continue to be a platform for mutual exchange between vascular clinicians from all medical specialties and colleagues from translational and basic research. Both sides will benefit from each other: clinicians have the chance to learn more about translational research and the evolution of cutting-edge technologies (including their pros and cons) and translational researchers may get a better understanding for the needs of vascular clinicians and their patients.
If you consider to pass the UEMS-European Vascular Surgical Examination, the 1-day revision course on technical skills on Dec 5, 2018 – preparation for the European examination as a FEBVS is highly recommended. This is a VASCULAR INTERNATIONAL practical workshop, in which all elements of the skills assessment at the UEMS examination will be practiced and demonstrated. Since about 80% of all failures at the European examination are due to insufficient technical skills, this workshop offers an ideal opportunity to get familiar with the skills assessment before the examination. Please have a look to https://mac-conference.com/workshops/
More information is available at https://mac-conference.com/
In order to support participation of the Greek community of vascular surgeons and endovascular specialists 25 free registrations will be offered. To claim free registration you are kindly requested to send you e-mail at info@ivd.gr the latest by November 21st 2018.
Registrations will be handled on a first-come first-served base.
On behalf of IVD
Professor Athanasios Giannoukas